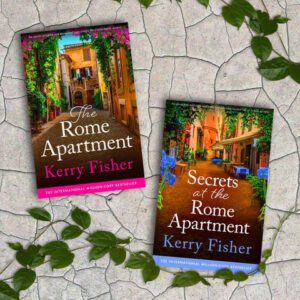 Beth's husband announces he wants them to separate on the night after they drop off their daughter at university. He heads off to Paris leaving Beth to cope alone. She sees an advert for an apartment in Rome where she will be challenged to rediscover herself and prepare to face whatever the future holds…
The Rome Apartment is a book about re-evaluating your life and trying new things. It is set in the UK and Italy in the present day.
Seventy something Ronnie and her friend Marina have been inspired by their life in Rome and are eager to show the joys of the city to other women struggling with life. Beth has an empty nest and finds her husband is fed up with their marriage. She needs to find herself again rather than being just a mum and wife so accepts the opportunity to visit Rome and face Ronnie's challenges designed to inspire her.
I was absolutely incandescent with rage at the selfishness of Beth's husband and daughter. Neither showed any gratitude for the sacrifices that Beth has made even though she willingly gave up everything for them. Even when she tries to find herself, they are still trying to hold her back and made demands of her. I felt totally invested in Beth's journey and was keen for her to find happiness within herself.
The geographical setting is absolutely vividly described. Rome is high on my bucket list but I almost felt transported there as Beth explores the city. Ronnie and Marina are interesting secondary characters, pushing Beth out of her comfort zone for her own good but not without their own histories. The ending felt a little abrupt and I wanted to know what happens to Beth next.
The Rome Apartment is a richly descriptive book as well as a massive emotional journey. The second book in the series, Secrets at the Rome Apartment is also available now (blurb below)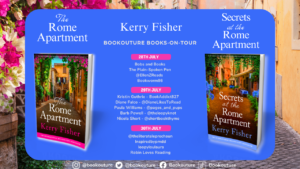 As I stood on the terrace and gazed out over the most glorious view, he studied my face and said to me 'Why do you look sad? No-one should be sad in Rome. We only have this one life, you know. Don't waste it.'
Beth stands in the sunshine outside the magnificent wrought-iron gates of Villa Alba holding her suitcase. Only a few short months ago, she dropped her beloved only daughter off at college, holding back tears at the thought of an empty nest… clinging to the thought of the new chapter that she and her husband Joel could now begin together. But that same day, Joel dropped a bombshell. He thinks their marriage is stale, and wants a break; he says that Beth is no longer the same woman he fell in love with…
Searching for an escape, Beth spots an ad in a magazine for an apartment in Rome that is available for three months rental only to 'an English woman of a certain age'. She reads on… Veronica, the 75-year-old owner, challenges her guests to rediscover themselves, find joy, and live life to the full – and there is no better place to do these things than in Rome, the most beautiful city in the world.
Ronnie sets Beth a list of tasks, forcing her to slow down and find beauty in every corner of the city: the sun on a stained glass window, a fragrant bunch of the freshest basil, a painting in a hidden courtyard. But her final task is the most challenging of all: to go out on a date with an unsuitable man.
But handsome and adventurous musician Rico, unsuitable in almost every way, may turn out to be just the right man to bring Beth back to life. With her break from Joel coming to an end, can Beth risk embracing the new life of exciting possibilities that Rome has opened up to her, even if it means losing everything?
Get swept away to the sunny streets of the most beautiful city in the world with this heartwarming novel about love and second chances. Perfect for fans of Faith Hogan, Elin Hilderbrand and Sheila O'Flanagan.
Secrets at the Rome Apartment (The Italian Escape Series Book 2) – https://geni.us/B0C37N5YZQsocial
Everyone has something to hide. Back then, I was a young woman, without the imagination to know how it would all end, and how the terrible consequences of the choices I made would echo down the years…
75-year-old Ronnie has made it her mission to help women of a certain age rediscover themselves. The owner of a palazzo in Rome, she has left her troubled past behind and reinvented herself in the most beautiful city in the world. And now she helps other women to do the same. Renting out her spare apartment for three months at a time, Ronnie invites her guests to take on a series of challenges that will help them to embrace beauty and joy, to rediscover themselves and to live their lives to the full.
But Ronnie's confident exterior hides heartbreak and closely-held secrets. Why did she leave England all those years ago and what was she running away from? How did a woman who helps others to fix their shattered lives become estranged from her very own daughter, Nadia, who has left Rome and moved to England to escape her?
As Ronnie welcomes her latest guest to the Rome apartment, Nadia appears unannounced on her doorstep – pregnant and alone. Ronnie is desperate for a chance to put things right and to be part of her precious grandchild's life, but in order to fix her family, she will have to dig up secrets from her past that could risk destroying everything…
Get swept away to the sunny streets of the most beautiful city in the world with this heartwarming novel about love and second chances. Perfect for fans of Faith Hogan, Elin Hilderbrand and Sheila O'Flanagan.

Author Bio 
Kerry Fisher is an internationally bestselling author of women's contemporary fiction, including The Woman I Was Before, The Silent Wife (USA Today bestseller) and Other People's Marriages, as well as a non-fiction memoir, Take My Hand. She was born in Peterborough, studied French and Italian at the University of Bath and spent many years living in Spain, Italy and France. After returning to England to work as a journalist, she eventually abandoned real life stories for the secrets of fictional families. She now lives in Surrey with her husband, with an intermittent empty nest as her two young adult children come and go.