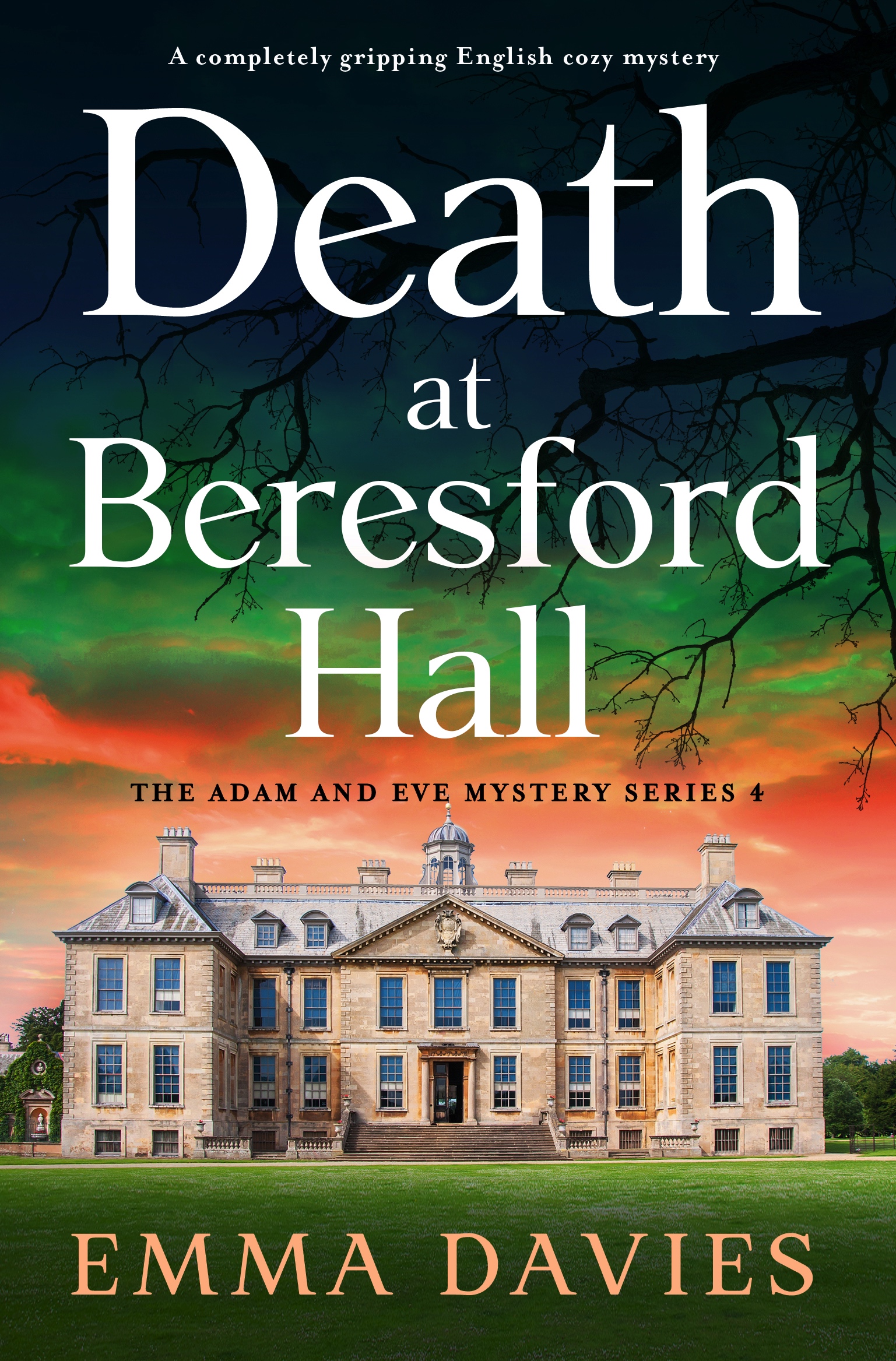 Celebrity chef Miranda is filming her Christmas special. Fran and Adam are pretending to be writing a book about her but in reality they are investigating a series of unpleasant gifts sent to Miranda but things escalate rapidly and soon they are trying to solve her murder…
Death at Beresford Hall is the 4th book in the Adam and (Francesca) Eve series. There are mentions of earlier cases but no major spoilers about the crimes and criminals.
Fran sees the clay feet of her idol when she arrives on set. The reality behind the show surprises and disappoints her but she has taken on the challenge of finding who has an axe to grind agaist Amanda. She is ably supported by the constantly hungry Adam and I love their friendship.
We see the murder right at the start and then go back in time by 24 hours to see what led up to the death. Miranda's PA Midge has the motive and opportunity but Fran and Adam can't believe she would have actually done it. Could someone else have sneaked off set to commit the murder and why?
I really liked the setting of the cookery show and the reality behind the TV fiction. Fran and Adam are a likeable pair of amateur sleuths. They are easy to relate to and have a self-doubt and little quirks that make them seem authentic.
Death at Beresford Hall is an enjoyable cosy murder mystery and fans of TV cookery shows will love it!
I have previously reviewed the first book in the series: Death In Disguise.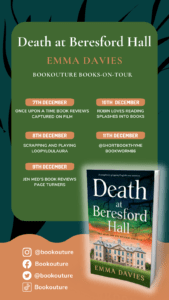 MEDIA PACK
Book: Death at Beresford Hall
Author: Emma Davies
Pub Day: December 7th 2022 
About the Book: 
Francesca Eve, chef, caterer, and baker extraordinaire, has never desired the limelight. But when she's accepted onto the country's favourite cooking competition, she can't help but wonder – what would it be like to win? The one thing she'd never imagined, though, was sharing the kitchen with a killer…
When Francesca Eve arrives for the Christmas special of the country's most popular baking competition, she knows she's out of her depth. For not only is she there undercover, reluctantly investigating strange threats to Miranda Appleby, the famous presenter-come-chef, but she swiftly gets roped into competing herself when another contestant can't cut the mustard and quits.
Cooking may be bread and butter to Fran, but under the bright lights her cranberry sauce won't set and her mince pies burn. When the real reason she's there ends in total failure and Miranda is found with a cake slice through the heart – 'lights, camera, cook' becomes 'lights, camera, murder…'
Miranda may have looked like butter wouldn't melt in her mouth, but looks can be deceiving… From her harassed PA to the rakish producer and even the disappointed contestants, everyone on set seemingly had reason enough to want to bump her off. But who would be nuts enough to cook Miranda's goose in such an obvious way?
As the police arrive to take over the investigation, Fran can't help but continue her own lines of enquiry. She's come to know the crew and contestants and can't believe that any one of them would be guilty. But Fran must harden her heart to her new friends and focus her mind.
Someone may have thought Miranda was justifiably given her just desserts, but what Fran uncovers takes things to a whole new tier. Can Fran uncover the truth before another death occurs, and before the spirit of Christmas (cake) is ruined forever?
An utterly gripping cozy crime mystery set at a Christmas cooking competition. This is perfect for fans of Faith Martin, M.C. Beaton and The Thursday Murder Club.

Author Bio
After a varied career, Emma Davies once worked for a design studio where she was asked to provide a fun and humorous (and not necessarily true) anecdote for their website. She wrote the following: 'I am a bestselling novelist currently masquerading as a thirty something mother of three.' Well the job in the design studio didn't work out but she's now a forty something mother of three and is happy to report the rest of her dream came true.
After many years as a finance manager she now writes full time, and is far happier playing with words than numbers. She lives with her husband, three children, and two guinea pigs in rural Shropshire where she writes in all the gaps in between real life. It's a county she adores, her love of its beautiful people and landscapes providing endless inspiration for her books, and in fact the only thing that would make Shropshire more idyllic is if it were by the sea.
Pop over to her website www.emmadaviesauthor.com where, amongst other things, you can read about her passion for Pringles and singing loudly in the car. You can also wave to her on twitter @EmDaviesAuthor or find her on Facebook (a little too often than is good for her).
Social Media