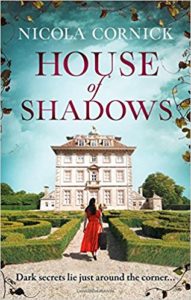 Wow, what a book! I LOVED this!
There are three narrative strands set at different times in history which intertwine through the book. The main character is in the present day: Holly is a glass engraver whose brother Ben disappears and she hunts for clues about the treasure he was seeking. In the aftermath of his disappearance, she reevaluates her life and relationships and moves to Ashdown to wait for her brother's return.
What was he searching for? A huge pearl and diamond mirror said to have mystical powers, owned by Elizabeth Stuart, Queen of Bohemia and daughter of James I. The plot set in the 1600s revolves around the relationship between Elizabeth and William Craven, the man who built Ashdown.
Ben also found a journal by a courtesan Lavinia from 1801. Out of necessity she is the lover of Lord Evershot but then falls in love with surveyor Robert Verity. Both men are searching Ashdown House for the treasures but their story ends in flames as the house is burned to the ground. I won't spoil the outcome for Lavinia…
Back in the present day, Holly is haunted by the mirror which ends up in her possession. She sees the house in its former glory and has visions of past events. She needs to find the pearl so she can end the power of the two objects once and for all, just as Elizabeth of Bohemia had intended 350 years earlier.
The characters are all believable and as a huge history fan I adored the way that the plot unravelled in each time period. I love the way that fact and fiction have been combined and it really got me interested in the places, events and people described in the book. Nicola Cornick has brought them all to life and the result is simply excellent.
I would score this book 10/10 and would highly recommend it to anyone with an interest in history or if you just like mysteries or romance: there's something for everyone!
[amazon_link asins='1848454163,1848455046′ template='ProductCarousel' store='tiredmummyblog-21′ marketplace='UK' link_id='d7ed9615-3195-11e8-b7d1-abf2b24bc273′]
I read this book through Net Galley.