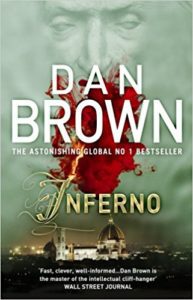 I'm so sorry Mr Brown but my expectations were so high that this didn't live up to them 🙁
This is the 4th Robert Langdon thriller, following Angels and Demons, The Da Vinci Code and The Lost Symbol.
I'll be completely honest the first three quarters was a bit dull. There were plenty of action sequences and chases but not a lot seemed to happen to move the plot forward, it was VERY repetitive. The the final quarter began and the whole dynamic changed, finally stuff was happening!
Perhaps if I were more au fait with Dante, I would have had more chance to appreciate some of the historical links but I'm not convinced that would have completely overcome my failure to get excited by the slow plot. However, as I just said the last quarter of the book really seems to have purpose and intensity as the trail loses prominence and the focus turns to the final confrontation.
If you have read other Dan Brown books then you will probably be like me and not want to miss out on the future of Robert Langdon. I will certainly continue to look out for his new publications.
[amazon_link asins='0552169587,0552149527,B003SHDP4K,055216089X' template='ProductCarousel' store='tiredmummyblog-21′ marketplace='UK' link_id='8ba37f6c-292b-11e7-9975-a5c71eea01d0′]