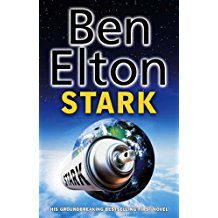 This book is nearly 30 years old! Published in 1989, how have I never read it before?!
So, the human race has ruined the planet and the fat cat businessmen are abandoning Earth to live on the moon. A small team are trying to stop them but the odds are against them. This plot remains as topical today as it was in the 80s. Stark has a hugely important message about the damage we are doing to the environment which is still relevant despite almost 20 years of awareness about the potential danger our planet faces.
The style tries too hard to be funny. Now, I believe that Mr Elton is one of the funniest men on the planet, but that does not mean that I want EVERY sentence to be hilarious and this appears to be what he tried to do in this his first book. (I'm happy to say that he calmed down a bit as he developed as an author).
The characters are mostly stereotypical but this does not affect the enjoyment of the novel. Ben Elton wants his characters to be extreme to provoke a reaction. It is difficult to like several of the main characters despite understanding their motivations. It inspires reflection on how we would react to the news of the impending doom of our species and the planet.
This is a book that all should read. Yes, it is over the top. Yes, it may seem preachy. Yes, we want to keep our planet and this can only be done if ALL of us take some action however small within our own homes and by encouraging big businesses with our consumer power too.
[amazon_link asins='0552779997,0552771309,0552773905,0552771236,0552999458,0552999954,0552773557′ template='ProductCarousel' store='tiredmummyblog-21′ marketplace='UK' link_id='04cbb336-114a-11e7-9515-1d9b2cc9546d']