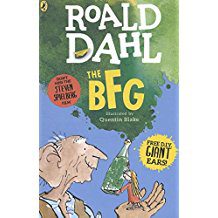 Another classic from my childhood.
I confess I HATED reading this aloud due to all the strange words but Matthew absolutely roared with laughter. i had forgotten so much of the plot so it was like I was reading it for the first time (it must be 20 years or more since I last read it! eeeeek!)
The story begins with little Sophie wide awake one night and looking out of her window when she spots something strange: a giant!  He grabs her and takes her to giant country. Luckily for her, she has met the Big Friendly Giant or BFG, the only nice giant, the others are 'human bean' eaters! The BFG only eats snozzcumbers which are a really disgusting vegetable!
Sophie is horrified at the other giants eating humans and together with the BFG she comes up with a plan to save the world. The Queen of England is involved and I enjoyed imagining the real Queen participating in the plot 🙂
Now I want to watch the film version! I believe there was a version in the 1980s but I can't remember it very well 🙁
This book certainly provided lots of entertainment for my children but the mixed up language is annoying to read out loud! Roald Dahl is a classic children'a author that everyone should read!
[amazon_link asins='0141365420,B01IRDG3RA' template='ProductCarousel' store='tiredmummyblog-21′ marketplace='UK' link_id='3f1198d2-2fea-11e7-9dfd-d58e15f442f2′]