This book is the first in this author's Elizabethan series.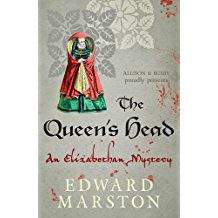 My dad is a huge fan of Marston's Railway detective series so I thought I would give this a try as it is my favourite period of history.
There was plenty of historical detail to enjoy and the book was very easy to read. The plot kept me guessing right up to the end. The characters were believable especially the main character Nicholas Bracewell.
The book is set in the Elizabethan theatre. No Shakespeare but it is easy to imagine him! One of the players is murdered and his friend wants to find out who and why, leading to a hunt through the streets of London. We get personal details about the characters which contrasts interestingly with the historical features. Royalty and the court appear within the plot but this book is mostly concerned with the experiences of the average Tudor actor and the general public.
The last chapter was very abrupt. I honestly though the plot would continue into a sequel as there din't seem enough pages left to reach a conclusion! I would have liked a little more explanation and follow up to round off the story smoothly but all questions were answered.
I have bought more books from this series so will be reading more!
[amazon_link asins='0749010134,B00GW5GPRE' template='ProductCarousel' store='tiredmummyblog-21′ marketplace='UK' link_id='9e9ef225-6cd5-11e7-95a5-119845f60b5f']