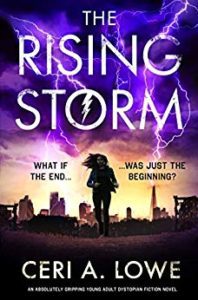 This young adult novel is based upon a double narrative. We begin with Carter Warren, a fifteen year old with a great future ahead of him. In the future, the world has changed and teens guide the Community for the greater good. Carter is cryogenically frozen in the prologue so that he can fulfil his potential at the time deemed most beneficial to mankind. He is awakened 15 years in the future and begins training for his leadership role.
Meanwhile we see how the world changed and the Community was created. 90 years before Carter, Alice is a young teen facing a depressing life. One day her situation gets worse when devastating storms destroy the world as we know it. Alice survives on her own for a while and is then rescued. She is taken underground and given a new family. Life changes dramatically as humans try to build a future.
It is really fascinating to see how Alice's experiences in the past have ramifications for Carter in the future. Both narratives deal with the subject of loss and betrayal but also have a sense of hope that a better future can be created although the two protagonists disagree about the best way to unite the Community.
I would describe both of the main characters as idealistic but then they are both teens. Their future is ahead of them but during the course of the book nature and human nature begin to unravel their vision for the future.
Looking forward to the next 2 books in the trilogy!
[amazon_link asins='B079M8NMWK,B07F2JFDJ3,B07F87XZQP' template='ProductCarousel' store='tiredmummyblog-21′ marketplace='UK' link_id='3cc6a272-a3ec-11e8-8784-c3c28d7265b5′]
*I received a complimentary e-copy of this book but was not asked to review it, all opinions are my own.