As you know, I have a bitter loathing of crafts due to the mess. But I have been reintroduced to pompom making which has little or no mess at all!
I last made these at school (estimate 25 years ago) and just made single balls. I had a simple purple one hanging in my room for about 15 years!
Now Katie Scott has designed pompom animals and objects that are just gorgeous but also fun! The book is full of clever designs which are suitable for all ages to create, varying from cute animals to realistic-looking food, all of which look fantastic.

The fun creations are a great way to learn a new craft and I'd love to make these with my daughter as I have fond memories of making pompoms as a child. The diversity of the designs can appeal to a wide range of interests.
My only criticism is that the how to make pompoms section is at the end rather than the beginning, and it relies on using pompom makers (which I didn't even know existed!)
The book did inspire me to get making my own pompoms, but I used my fingers. This is my first attempt:

I need to use more wool next time as it is a little threadbare! It also needs a haircut to tidy it up a little! I must also work out how to make different sized pompoms to correspond to the makers in the book so I can successfully replicate the designs (I really want to make the super cute chicks like the one below!)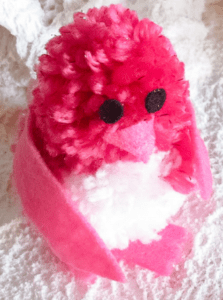 The book is released on 14th January and you can get more information about Katie on Twitter @bloggerkscott
[amazon_link asins='B07KZLCBPG' template='ProductCarousel' store='tiredmummyblog-21′ marketplace='UK' link_id='13014eb8-b912-4a3b-a4cb-a92440665127′]