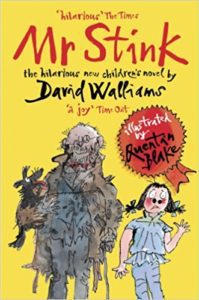 I got this for my birthday and loved it! Now waiting to share it with the kids!
This was a much simpler book than Awful Auntie in terms of language and plot. It has a lot of humour in it but also gives great emphasis to empathy.
So, the plot centres around a deeply unhappy little girl called Chloe. She has trouble at school and feels out of place at home too. Her mum is campaigning to be an MP (this plot dynamic made me laugh in light of the recent election!). She meets Mr Stink, a tramp who lives in the town with his dog Duchess.
Worried that her mum's campaign will drive him away, Chloe invites Mr Stink to live in the shed. Will she discover the truth about Mr Stink…? Yes of course she does. Yay!
Mr Stink is a kind of Mary Poppins characters, arriving to show Chloe's family how much love exists in their home and how to bond together as a family.
This is truly a heartwarming story even to a cynic like myself. It teaches important lessons about judging people on their appearance and also introduces children to the topic of politics. David Walliams is definitely a superb successor to Roald Dahl.
[amazon_link asins='000727906X,B00EQ30D36′ template='ProductCarousel' store='tiredmummyblog-21′ marketplace='UK' link_id='f849d83e-5a72-11e7-8f0e-4d5dfd521791′]