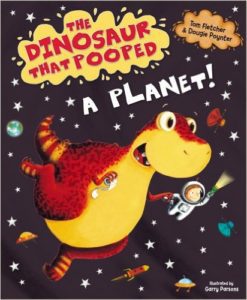 I bought this for Zach's birthday after having Tom Fletcher recommended by another mum on Facebook.
Tom and Dougie are best known for being part of McFly but have also collaborated on a number of books. The first thing that surprised me was that it is a rhyming book. I don't know why I wasn't expecting this as they are obviously more than capable of writing lyrics with rhythmic timing.
The story begins with Danny and his dinosaur going to a museum and then taking a rocket into space. They realise they haven't got any food (disaster!) and the dinosaur starts eating everything including the rocket so Danny is upset at the thought they can't get home. The dinosaur uses its poo to propel them back to Earth. The kids really enjoyed listening to me read this book and thought the notion of poo was hilarious.
I had a couple of issues with the book. Firstly, how much of a packed lunch were they going to take for the dinosaur if he gets that hungry?! Secondly, the images of poo were a bit too like diarrhoea and surely farting (propulsion of gas) would be better to get them back home… Sorry for being pedantic!
Overall the book was bright, clever, and highly enjoyable. We may well buy more in the series.
[amazon_link asins='184941808X,1849417792,1782951792,1782951784′ template='ProductCarousel' store='tiredmummyblog-21′ marketplace='UK' link_id='d9b9334d-1eb0-11e7-9b7a-492fbb607207′]