I loved this book!
I am a huge fan of the Tudor period and have read Sarah Gristwood's non fiction book on Arbella Stuart which Elizabeth Fremantle refers to in her author's note.
Arbella was born in 1575, a cousin of Elizabeth I and her successor James I. Neither monarch trusted her as she was a threat to their throne as others plotted to elevate her to queen.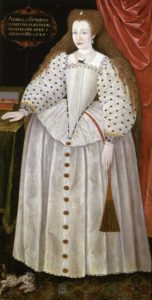 Arbella

is a fascinating character and I sympathised with her situation as she used food to gain control over her life as she was powerless in the other aspects which were prescribed by others.
The book uses the relationship with a female poet to explore the situation of women in the sixteenth century. I enjoyed seeing how the characters were brought to life through the dual narratives of Arbella and Ami as their lives interweave. Aemilia/Emilia Lanyer was a real person at the Tudor and Stuart court but there is no documented evidence of the two women being friends.
My dissertation at university was on witchcraft so I was interested to see how the social dynamics were described in relation to the suspicion and accusation of Ami. Faith plays a large role in the book as England was still developing the Church of England, and we see how the Catholic Gunpowder Plot could have changed history.
There is an overwhelming sadness in this book which is a combination of the excellent story telling and the heart breaking facts of Arbella's life. Reading about her tragic life, it is a harsh reminder that family politics can be tricky and that social status does not confer happiness.
Overall score 9/10
[amazon_link asins='1405920041,1405909404,1405909447,B00ADNP0N6′ template='ProductCarousel' store='tiredmummyblog-21′ marketplace='UK' link_id='ce5ea0df-1d2a-11e8-93fc-097cf693bbd2′]
*I read this book through Net Galley