The kitchen in our house is lovely and my personal highlight is the revolving corner cupboard which sadly Zach has just discovered. Matthew and Anya love joining in with cooking.
I would love to spend more time in the kitchen as I love cooking and baking but 3 kids, 3 jobs and my blog means I don't get enough time to try out new recipes 🙁 I also have to battle Chris as he is very experimental and much more adventurous in culinary ways than me.
I have already confessed in a YouTube video that my kitchen scissors are amazing. Before having my own home, I never thought I would get excited about such things!
My favourite gadget int eh kitchen is our toastie maker. I used to have toasties as a child for a special Sunday treat but since going wheat free I hadn't had one 🙁 Then in York last year I had one and we realised we could make our own, couldn't believe it had taken us so long to work out!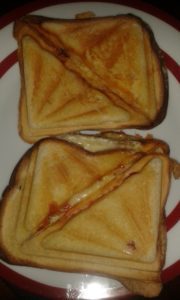 My favourite thing to cook is cheese straws. They are something that I have always loved eating and now after trying out recipes ratios to work with the wheat free flour I have perfected them. I love sweet pastry too and like making quick and easy jam tarts.
The only problem I have with my cooking is that I hate timers and often wander off and forget about things. My general rule is cook everything on high for 20 minutes and then go and check (this doesn't work with cheese straws which cook in 8 minutes!!!)
So how about you: is the kitchen somewhere you feel comfortable or are you not keen on cooking?