2017!!!
How fast is time going?!
Everyone is back at work, school and preschool today. Zach, Ollie and myself are eyeing each other suspiciously in the silence of the house, wondering if it was this quiet before the holidays but our ears got used to the constant shrieking and demands to watch youtube 🙂
So Matthew is off on school trip today to Milestones in Basingstoke to kick start their topic of Victorians. He was dressed for the part: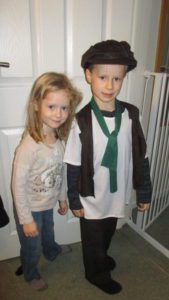 Back to normal then, which is a bit sad. For all the kids wind me up and drive me crazy, I really am missing them. And I know that as time goes on they will want to spend less and less time with me. These Christmases won't be like this forever. Matthew has started to read on his own for pleasure now, he doesn't want me to read to him anymore. Anya is desperate to do the same. I used to be annoyed by the endless angst over book choice, now they just do it and I'm becoming surplus to requirements.
Zach celebrated our return to normal by waking up repeatedly in the night. Maybe he thinks sleep training is only for the holidays?! But then how did he know everyone had to be up early…