We were invited to visit

Roarr! Dinosaur Adventure
in

Norfolk and decided to visit on our wedding anniversary to celebrate. With the kids, obviously! I have detailed the rest of our overnight trip here, but this was the main event!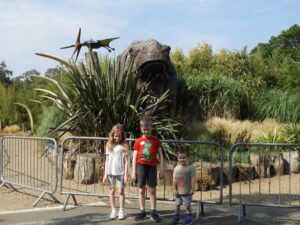 We arrived and joined the queue for hand sanitiser before contactless entry with tickets on my phone. Tickets to visit need to be booked in advance and have a timed entry slot to avoid crowding around the site. I had also downloaded the map to avoid requiring a paper copy.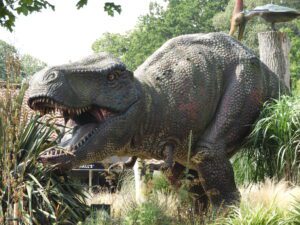 There were hand sanitiser stations at every activity with advice to use before and after. Masks need to be worn in the shop, but it was possible to leave the park another way that did not require going indoors. It looked like some picnic tables had been removed to allow social distancing but there were still plenty available. Toilets were cleaned frequently and had alternate cubicles and sinks closed off.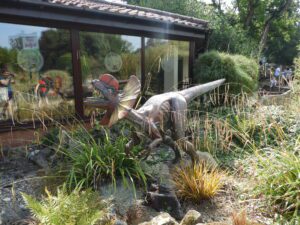 Our first activity was Raptor Racers, pedal power carts for single or double riders.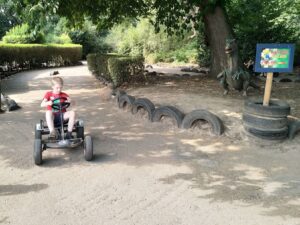 Next we headed to a play area called Pterodactyl's Treehouse that was completely empty. The kids loved it!
We followed the Neanderthal Trail to spot dinosaurs in the undergrowth. The shade of the trees was much appreciated as the temperature soared above 30 degrees again! We even had a snack while a brachiosaurus loomed above.
I couldn't resist some fun photos: Anya got the bum end of the deal!
Roarr! is taking part in the Eat Out to Help Out scheme but we didn't realise until after we had bought all of us a slushy and were surprised by the low cost.
We enjoyed the Secret Animal Garden housing chickens (the closest living relative to dinosaurs!), wallabies, guinea pigs and reptiles. Masks needed to be worn in the animal barn and there were clear signs informing guests of the requirements.
There were some areas that were closed such as the indoor play barn. We had already decided not to go to the water attraction called Dippy's Splash Zone due to the lack of changing facilities.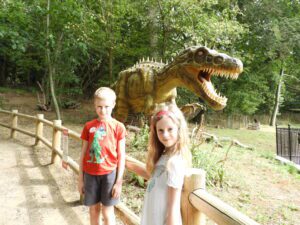 We did not try the high ropes which is a key feature of the park. Zach is too little so we thought it would be unfair to go on as either me or Chris would have had to stay off too.
The kids were undaunted by the assault course and searched in X-tinction sand pits for fossils.
We braved the Lost Word A-Mazing Adventure and only hit a couple of dead ends.
We had a lovely day out at Roarr! I was impressed by the alterations in response to Covid and would love to visit again. The kids were perfectly happy with the attractions open and I felt we were all safe.

*We were given complimentary tickets in exchange for writing this blog post.