We started our day with Zach's favourite thing in the world: counting steps! It took a long time…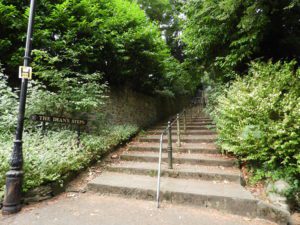 We looked around Llandaff Cathedral and admired the Rosetti triptych before heading to the old bishop's palace.
The main part of our day was spent at St Fagans National Museum (no apostrophe!) which has rescued buildings from around Wales and preserved them for future generations. There was also a fairground and castle to enjoy!
St Fagans is one of the places that I visited as a 10 year old child on a residential trip and I remember the tannery in particular because someone stuck their hand in front of my camera as I took my pic: horrendous in the days when you only had 24 shots and were using a disposable camera!

Finally we headed off to Llantwit Major, a beach known for fossil hunting.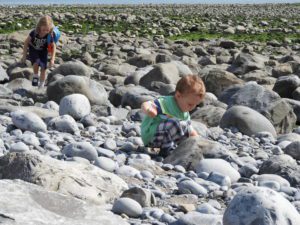 The beach was absolutely sweltering hot and there was no shade. We weren't brave enough to chip at the cliff side as there were warning signs up. We had a go at cracking open some rocks on the beach but found no fossils. Sadly, our first attempt at fossil hunting was ultimately disappointing 🙁