This morning I sat down with my children and told them about the events in Manchester. It is becoming too regular an occurrence (just two months ago in London 🙁 ) but the message I give my children each and every time is that the world is a good place, full of good people. I want them to believe in the power of hope and love, not hate.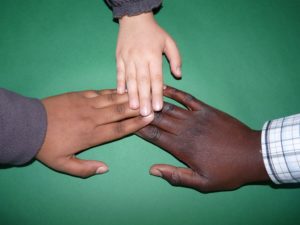 And this is the reason that terrorism will never win. Change through violence will never succeed when love and hope exist. And they do. The stories that emerge from each terrorist attack prove that the humanity and kindness of strangers far outweighs the hatred of the few.
My heart aches for the families affected by this tragedy, those lives changed forever by a misguided individual.
There were children killed, injured and missing after last night's attack. Families devastated by the decision of one person. I cannot imagine the pain, words are not enough to convey the horror of what I have seen in the news.
Why? I simply do not understand the mentality of suicide bombers and terrorists. Their actions bewilder me. How can their definition of their faith allow the murder of innocents? Life is precious. EVERY life is precious.
I am of course making assumptions about the perpetrator's motives which at this stage are unknown. But any ideology that results in the slaughter of others is wrong.
Every time I speak to my children about faith and beliefs, I emphasise that all are equal. I tell them what I believe and explain that I could be wrong. They do not have to share my beliefs and I encourage them to question and form their own opinions.
Parents have a tough choice whether to tell their children what is going on. I don't know whether I am doing the right thing by telling my children but feel it is important that they know what is happening. I don't want to scare them which is why I focus on the tales of bravery, hope and love that emerge while we are gripped by sadness.
I will hold my children close tonight. Warn them of dangers but emphasise the good in the vast majority of people. Tell them that love will always drive out hate, that in the darkness of the future they will be the shining beacon of hope.
This is for Manchester and all the other cities affected by vile acts of cowardice. 
This is for our future, our world, our children.
This is for love.
Show the world that hope and good are not extinguished
and never will be.