I love Avon products. I get really excited when the brochure comes to my house every 3 weeks. This time I couldn't resist the Wild Blackcurrant nail enamel! The bottle design has pretty spots and the colour is bright, fun and summery.
 
Layer 1 provided quite good coverage.

 Layer 2 made the colour really strong and vibrant.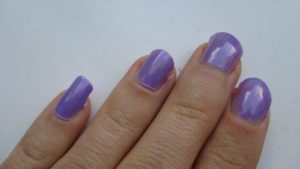 The colour looked great out in the garden 🙂 sun and shade

So did it chip? Well, 2 days on I have only had to deal with one chip so far on my index finger nail. I'm really impressed and will update you!