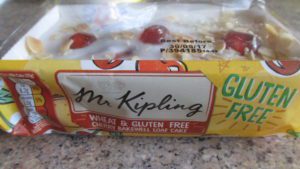 I couldn't resist it! I saw this on offer at the supermarket and just HAD to try it! I love the flavours of cherry bakewells and combined in a cake was something that I needed in my life 🙂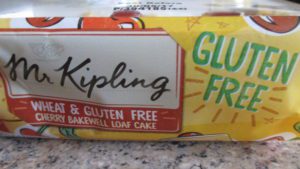 Mr Kipling has finally got round to producing wheat free bakes! I remember Mr Kipling products from throughout my childhood before my wheat diagnosis so I was super excited to spot their new range that I can enjoy and really hope they add more products soon!
The taste of the cake was absolutely delicious. The texture was rich and moist. The icing was gooey and sticky whilst the almonds on top added a little crunch.
Unfortunately there is a down side 🙁 An awful lot of the cake and icing remain stuck on the packaging so it looked a bit messy. Not a problem if the appearance doesn't matter!

The other problem I had was serving size. As you can see from the slice above, I cut the cake into THREE pieces so each had a cherry on top. Afterwards I looked at the packaging and it says the cake is supposed to serve EIGHT!!! Oops! My serving size was perfect for my appetite and if I'd only been served an eighth I would have been bitterly disappointed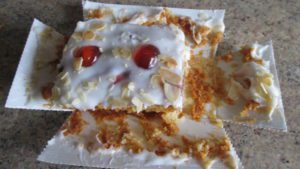 I will buy this again as the taste was so fab and perhaps I will make the portions slightly smaller…