OK so the title is a slight over exaggeration, sorry!
I love shopping but tend to shop online in order to avoid dragging the kids around the shops. This week though, I bravely took them out and here is what I got!
Here is Anya herself wearing the Twilight Sparkle headband:

In addition we also went back and bought Matthew some black football shorts for PE at school and some gorgeous glittery boots for Anya from Tu at Sainsburys (love their 25% off weekends!)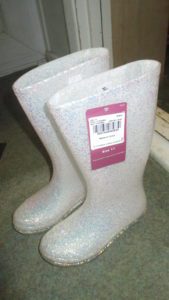 We also bought some sleeping bags and camping mats for our camp out in the garden, full post to follow soon!
Aldi had their baby event so I was very restrained and only bought 3 boxes of nappies ( I wanted wipes as well but they'd already sold out online, they are like gold dust!
Ooh, update: I checked today and there was ONE box of wipes so I bought it quick 🙂 Yay!