I have made this recipe so many times! I have never tried 'normal' sticky toffee pudding but this version is amazing. It can be served warm as a pudding or cold as a cake. I can't eat raw fruit so I love recipes that use it is baking. I'd never eaten a date before finding this cake!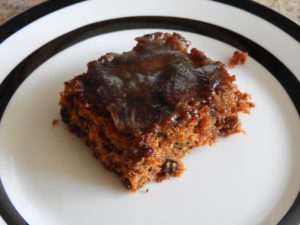 Ingredients
3oz butter or soft margarine
6oz dates
6fl oz boiling water
half a teaspoon bicarbonate of soda
5oz caster sugar
1 egg
half a teaspoon vanilla extract
6oz self raising flour
3oz soft light brown sugar
2oz butter or soft margarine
2 tablespoons milk or single cream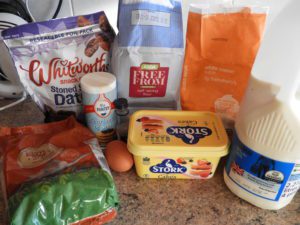 Method
Chop the dates into pieces and place in a saucepan with the boiling water and bicarbonate of soda.
Heat for 5 minutes without boiling until the dates are soft. Remove from the heat.
In a mixing bowl, whisk together the butter, caster sugar and egg for 3 minutes.
Fold in the vanilla, flour and date mixture until fully combined (I'll be honest: I doesn't look overly appetising!).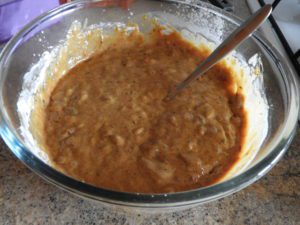 Pour into greased and lined tin (I think mine is 20x30cm)
Bake for 30 minutes at GM5 then cover with foil and bake for another 10 minutes.
Remove from the oven and allow to cool for 5 minutes.
Use a cocktail stick or skewer to prick holes all over the surface of the cake.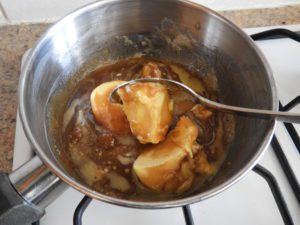 Make the toffee sauce by heating the soft brown sugar, butter and milk in a saucepan until the butter has melted and the sugar has dissolved.
Simmer for 2 minutes then pour over the cake.
Allow to cool fully in the tray then cut into squares and eat!