AD GIFTED: we were invited to receive this game for the purpose of this review. All opinions and photos are my own.
Have you got the gift of the gab? Put it to the test!
Gabble is a fun new game where you describe things, people, places and more!
The first thing I have to mention is the compact nature fo the game and how easily everything packs away inside. The box is small enough to fit in a bag for a day out or to take on holiday for fun in the car, train or plane.
So, how do you play? One of the cards has all the instructions on!
The game itself is straightforward: pick a card and slide it into position. Start the timer. Describe to your friend the things on the card but you mustn't use the words. Keep score using the pop-it style buttons on the base. When the timer runs out after a minute, count up the number of answers and give the appropriate colour counters. Slide the used card back into the back of the base and swap over so your friend takes a turn describing.
The game is aimed at children aged 12+. I did let 7 year old Zach have a go at some of the descriptions and guesses but his general knowledge wasn't wide enough to know many answers on the cards. 10 year old Anya fared better but I definitely agree that this is best suited to teens and adults.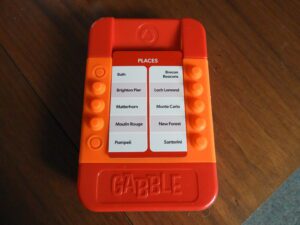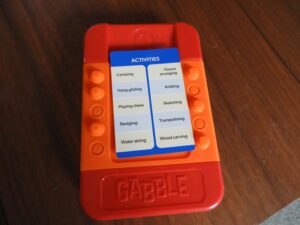 This game is lots of fun and relies on language skills to accurately describe as well as recall of general knowledge information.
Gabble has an RRP of £13 and is available online and in store from a range of retailers.