*We weer sent this toy for the purpose of this review. All opinions and photos are my own.
Time to inspire with some city landscape creations from K'Nex. We were sent a box of the K'Nex City Builders with 325 pieces, containing instructions on how to make a pretty impressive skyscraper.
The contents are bagged up for easy identiciation. I did notice that some pieces were not the colour stated on the box/instructions so it is important to check before you start building.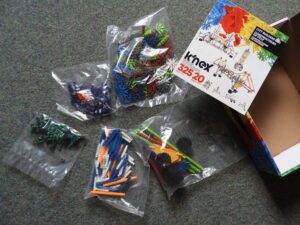 Instructions are included for the skyscraper. Another 20 builds are available online if you enter the code for the set.
The step by step instructions are easy to follow by do require a lot of attention. Matthew had a very serious face as he concentrated on choosing the correct pieces for each stage and connecting them properly.

This set is aimed at children aged 7+. The detail of the structure means that younger children may need support. Most pieces fit together quite well but one piece did snap when I tried to take it apart so be gentle.
The finished skyscraper is very impressive and sturdy.

The K'Nex City Builders 325 piece set has an RRP of £21. It is available from John Lewis online and in store, as well as other toy retailers.