One of our traditions is to avoid turkey, I'm a vegetarian and no one actually enjoys the taste so choose alternatives. This year Chris and the children will be having gammon and chicken while I have the beef Quorn roast.
There will be 2 types of stuffing and gravy so that I can join in with a wheat free veggie version.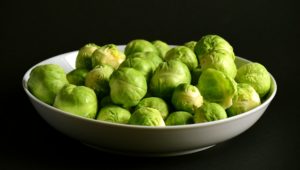 Accompanying vegetables: well, sprouts are essential! I love broccoli and cauliflower so we will have some of those boiled but also as a 'caulibroc' cheese'.
I love Yorkshire pudding and the children vary (one week they like, the next it revolts them!).

Roast potatoes are one of my favourite things. A bit like chips but bigger and fluffier! Matthew and Zach don't like them so a mound of mashed potato will be included in our Christmas dinner.
Here's a pic of last year's Christmas meal (mine) and it will be pretty much the same again this year, yay!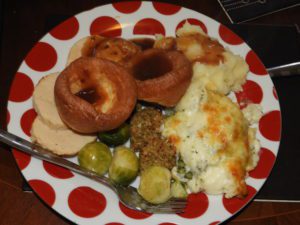 Pudding will be traditional Christmas pud or some mince pies. With cream, ooh I need to search out the alcoholic ones! I love this time of year…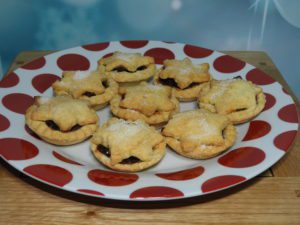 What are your plans for Christmas dinner?