Fame is not for me.
Perhaps you were expecting me to say something different. I am a blogger after all, and share my life in public!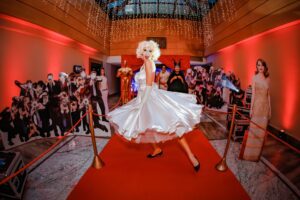 I did not start a blog to be famous. I did it to support other mums who feel like they are floundering about and that it is ok to not be a supermum.
I like to fade into the background and dread public speaking or being in photos or filmed.
I would never sing in public but love singing around the house. I have no dance or sport talent to show off. I don't have strong opinions I want to impart to others.
My husband Chris appeared in a few children's TV shows when he was young. One of his favourite stories is when he went on Blue Peter and his mum made him wear a bright yellow coat so he'd stand out but he had sneakily turned it inside out by the time of filming so he blended in.
My kids want to be YouTubers, the culture of celebrity has caught their imagination in a way that didn't even exist when I was growing up. I'm not sure they consider the negative aspects of fame but I want them to be realistic!
Have you ever been on TV? Are you comfortable in front of a camera?