There is a lot going on in my head. Trying to keep track of everything is a nightmare and I rely on lists to help me navigate daily life.
Here are a few of the things I am trying to remember: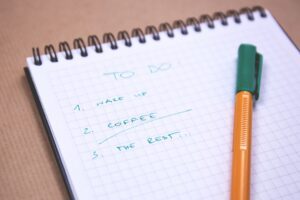 Kids
PE days, school meals: menu and packed lunches, dressing up, wellies, playdates, homework, Beavers, friends' parties and presents
Husband
Meetings, days off, reminder to call his mum
Work
Keeping track of emails, collecting papers and distributing, meeting schedule for myself and others, training (all for my 3 clerking jobs). Updates on exam schedule for invigilator job. Day to day activities for my teaching assistant job.
Food
What we have in the fridge, what we need to order, what the kids will actually eat
Blog
Book reviews in order, upcoming reviews, linkies, Blogtober!