I was a little stumped at this prompt but decided to have a fond look back at my kids as babies and how they managed to fall asleep whenever and wherever they chose!
Actually, apart from one photo of Matt asleep in the middle of the carpet that I just CANNOT find despite an hour of searching, the boys mainly fell asleep in their pushchairs.

It is Anya that was best at falling asleep!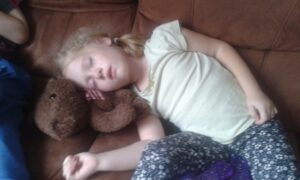 Seeing as I can fall asleep with Zach jumping on me, maybe she takes after me…