Photos are so important to remember people, special occasions, the ordinary days. They are a link to the past, shared memories and a record for the future.
We won a photo shoot over the summer and I used it as an excuse to get the kids together for a joint school photo to celebrate the only year they will all be in primary school. As you can see, Zach's cooperation didn't last long!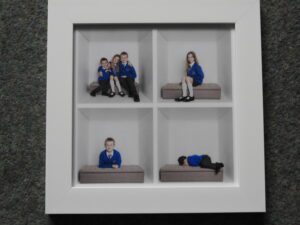 I absolutely love looking at old photos from my childhood. Seeing us all grow up and grow older as well as those that we have sadly lost in the intervening years.
It is so much easier in these days of digital cameras and phones. We now capture much more of the ordinary moments that make life special.
I enjoy taking part in #Project365 (this year 366 days) and looking back at the end of the year to see what big and small things have happened.
I hope my kids love to look back at my photos when they are older, sparking memories and making them smile.