Wow, they say family is complicated but this book takes it to new levels. I had no idea what to expect from this book as I hadn't read the previous 3 books in the series.
That didn't matter at all. I was completely swept up in the gangster underworld of Babs Miller and her family. The book centres around some gold which I presume was the result of a heist in a previous book. Babs' friend Pearl is looking after the gold bars at her care home when they are stolen. The two women are at loggerheads trying to get to the truth. Each suspects the other of theft and it puts both of their families in the crossfire…
The unfolding drama is quite simply brilliant and I was immediately caught up in the action.The language and tone of the book reminds me of EastEnders at its best, and the family scenario gives the book an epic or saga feel, or indeed, a soap opera.
This book does contain violence and swearing but there is also an undeniably soft side to the women who would protect their family at any cost. The characters are quite stereotyped but they are also completely believable and 'real'. This helped to encourage me to sympathise and empathise with them and their situations.
Natural emotions and reactions to circumstances are at the core of the book. Life and love, tragedy and trust, all central to every human experience and all present in Blood Secrets.
Overall, this book was a fantastic read and I definitely want to read more in this series and from this author!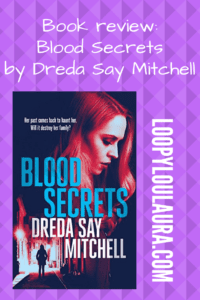 Book blurb: Blood Secrets
Book 4
THE PAST COMES BACK TO HAUNT HER
WILL IT DESTROY HER FAMILY?
Only two people know what's happened to the gold stolen in an underworld bullion heist. That's East End gangster's widow Babs Miller and her best friend Pearl. So when the gold vanishes from its hiding place that means there can only be two suspects.
Neither can believe they've been betrayed by the other. Neither wants a war. But honour, pride and tit for tat revenge drag them and their families towards a cliff edge of brutal gangland violence. And as they try and stay alive, what other dirty secrets are going to be dug up while these two women duel to the death?
Author biography:
Dreda Say Mitchell is an award-winning, bestselling crime writer, broadcaster, campaigner, and journalist. Since her sixth book she has been co-writing with Tony Mason. She is the author of eleven novels, with her debut awarded The CWA's John Creasey Dagger.
She has been a frequent guest on television and radio including Question Time, BBC Breakfast, Newsnight, Victoria Derbyshire, The Stephen Nolan Show, Front Row and Woman's Hour and numerous others. She has presented Radio 4's Open Book. Dreda was named one of Britain's 50 Remarkable Women by Lady Geek in association with Nokia. She was the 2011 chair of the Harrogate Crime Fiction Festival. Dreda and Tony's work is currently in development for TV. She was born and raised in the East End of London where she continues to live.
[amazon_link asins='B07FNZRMSR,B01ARXVT8G,B01MTX9SZG,B01HD3FA2O' template='ProductCarousel' store='tiredmummyblog-21′ marketplace='UK' link_id='8be33258-11fe-4f78-95cd-53a677e22229′]
*Thank you to Dreda for giving me a copy of this book to read. All opinions are my own. Biography and book blurb from her website.