Willow Greyson has rebuilt her legal career after the devastating murder of her boyfriend in the courtroom where they were on opposing sides of the case. She has high status in her legal practice and a loving fiance Hunter, another lawyer in the firm.
A shocking discovery puts Willow's career, relationship and even her life in danger…
Plotwise, For The Love Of The Law is fast paced and engaging. The twists are unexpected and raise questions about how YOU would react in the same position. There is also an emotional side and psychological perspective due to the turbulence of Willow's situation and reactions.
We see events in flashback chapters which are written in the first person, unlike the rest of the book which is third person and therefore more neutral. The flashbacks help us to understand the emotional background to the character's behaviour so that we can relate to them in the present day sections.
There is a LOT of sex in this book so be warned if you blush easily… 😉
At around 170 pages, this is a reasonably quick but definitely enjoyable read with plenty of drama (and sex!)
I am very impressed that Deborah is able to write books belonging to such diverse genres with success each time! Read my reviews of Deborah's other books: The Asylum Tour and Lacey Patrick and the Wizard of Darkness.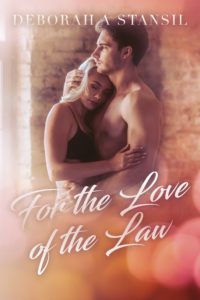 Book blurb:
Running from her scarred past, Willow Greyson thought she would never practice the law again, and she was certain she would never allow herself to love again. She was getting by, content with her life if not completely happy, but all of that changed when she met Hunter Graham. Willow slowly begins to open herself up to the idea of love once more after she finds herself working alongside Hunter at a law firm.
Hunter Graham is determined to do whatever it takes to make Willow his, even if that means being vulnerable around her. But when a shadowy figure from Willow's past makes an appearance, it becomes clear to Hunter that keeping the love of his life might not be so easy. Hunter must decide whether to fight for Willow, or whether to be the man who loves her enough to let her go.
Will Willow's past destroy her relationship with Hunter, or is he truly her soul mate? Find out in For the Love of the Law, the new legal romance that will keep you on the edge of your seat to the very last page.