How To Be A Comedy Genius is packed full of jokes for 7-12 year olds. The book is divided into different subject areas including Silly School, Funny Food and Christmas Crackers.
The jokes have been collected from school children and their names are listed at the end. A donation is made by the publisher to a children's mental health charity for every copy sold.
All kids go through the non funny joke phase where they end up saying nonsense and laugh hysterically (Zach is there at the moment!) This book will help them to find some proper jokes! A relief for bewildered parents like me 🙂
My kids loved reading this book, finding classics as well as modern references. They kept reading the jokes out that they found funniest which seemed to be all of them!
How To Be A Comedy Genius is full of fun, suitable for the whole family, and supports a great charity. Fab!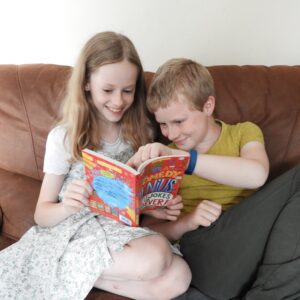 Book blurb
Laughter really is the best medicine! A collaboration of comedy genius to lift your mood, boost your spirits and get you and your friends laughing yourselves silly!
What is orange and sounds like a parrot? ** A CARROT!
Why did the T-rex cross the road? ** Because the chicken hadn't evolved yet!
These and hundreds more hilarious jokes are packed within the pages of this fantastic joke book. Get ready to laugh out loud with some of the best jokes ever, featuring Louis the Laugh's favourites from the best-selling series, together with contributions from school children across the UK. This is a book to really get kids laughing out loud – and whilst they're feeling super happy, they'll know too that they are helping children's mental health, too, with a donation for every copy sold being made in collaboration with Work For Good.
About the Author
Pete Johnson was a film critic for Radio One before becoming a secondary school teacher. Pete is author of over 50 books, including the bestselling 
How to Train your Parents

. His books have been translated into more than 20 languages worldwide!