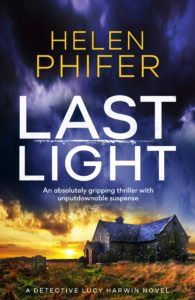 Gruesome at times but a brilliant read!
Lucy Harwin is investigating the brutal murder of a woman in a disused church. Sadly there are other victims and Lucy battles personal involvement as it becomes obvious that her daughter's friends and church group are the ones being targeted. But is one of them also the killer…?
The plot is excellent and the police characters are really likeable so you want them to succeed with finding the killer. The action was fast paced and I wanted to slow down my reading but it was compulsive so I ended up reading faster and faster instead!
I did guess the killler's identitiy but this did not spoil my enjoyment of the book at all. The violence is quite graphic and the descriptions of the murder scenes are grisly, however this didn't bothered me and served to make the book seem more realistic.
The book was really clever for giving us an insight into the killer's past which served to make me sympathetic towards him for the terrible life he had endured. This emotional edge made the book so much more than a straightforward police procedure book.
There are 2 other books in the series and I will be searching them out quick!

Title: Last Light
Author: HELEN PHIFER
Publication Day: November 16th 2018
Buy Links:
Description:
Lucy watches the pathologist leave, then turns to the nameless victim on the table. 'I promise I will catch whoever did this to you,' she whispers.
In charge of a new team, Detective Lucy Harwin is called out to attend the discovery of a woman's body in an abandoned, crumbling church, and is quickly plunged into a case that will test her leadership skills to the limit.
With no leads except the crudely-fashioned crucifix the victim was displayed on, Lucy is at a complete loss. That is, until another body turns up: an elderly woman who devoted her life to the church.
Faced with a killer stalking the streets of her small coastal town, while also throwing herself into work to forget the love of her life, Lucy's first case is turning into a nightmare.
Linking the killer to the church where her own teenage daughter volunteers, it seems the threat is quickly drawing closer to Lucy and those she loves. Can she catch this monster and prevent a tragedy that will tear her world apart?
An addictive and unputdownable crime thriller that will hook fans of Patricia Gibney, LJ Ross and Angela Marsons from the very first page.
 
Author Bio:
Helen Phifer lives in a small town called Barrow-in-Furness with her husband and five children.
Helen has always loved writing and reading. Her love of horror films and novels is legendary. Helen adores reading books which make the hair on the back of her neck stand on end. Unable to find enough scary stories to read she decided to write her own.
Author Social Media Links: