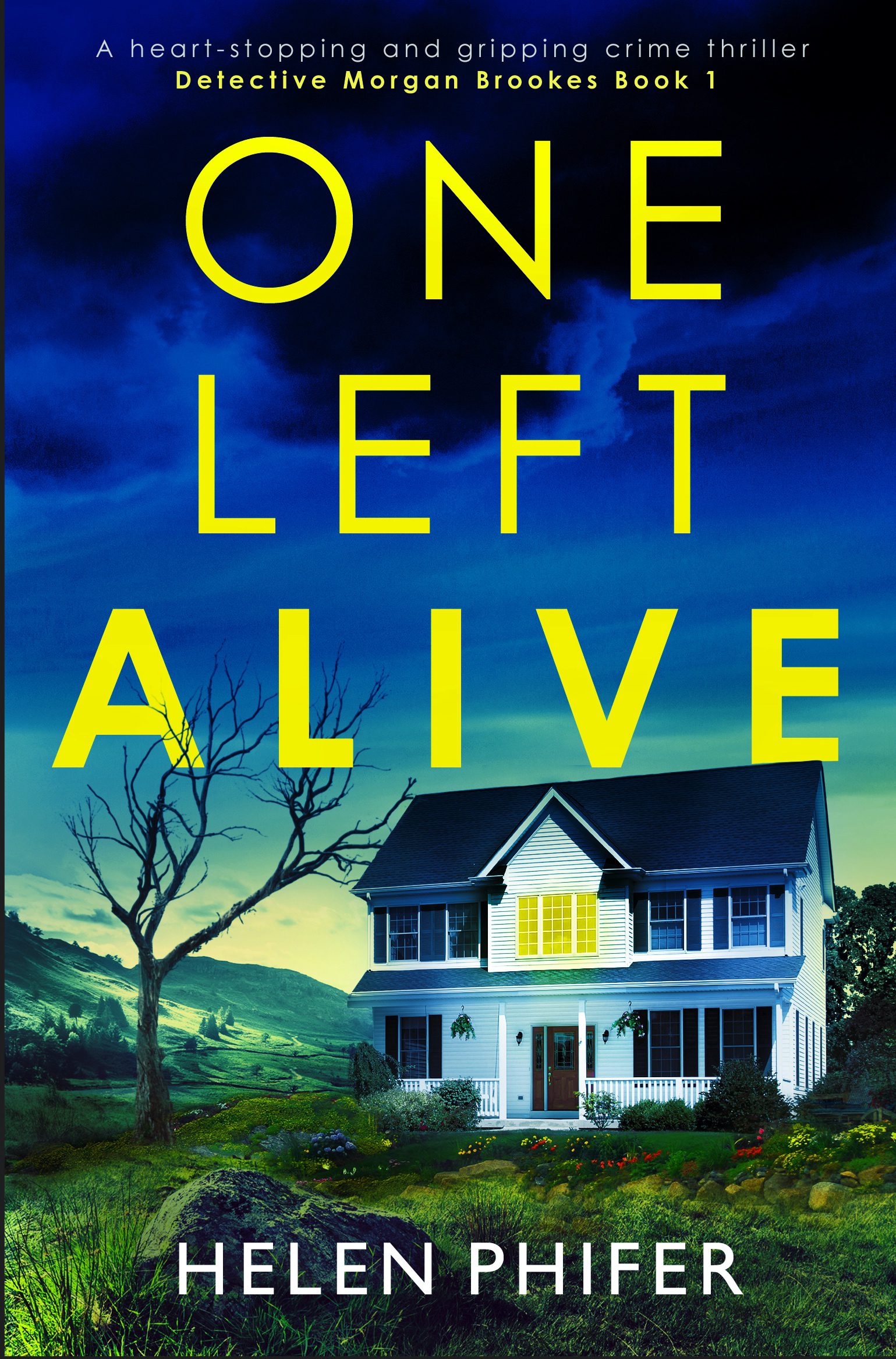 A wonderful new series from Helen Phifer begins with One Left Alive. Morgan Brookes is a police officer at the start of her career but with her sights set on CID. She is out on her first independent patrol when she gets called to a house with a woman's body hanging outside. There is no sign of the woman's family and Morgan has a bad feeling about their wellbeing.
She is seconded to CID ahead of her tutor which causes a rift. However, she develops a friendship with senior officer Ben Matthews who is nursing a broken heart after the suicide of his wife. Morgan also has heartache for her death of her mother and the alcoholism of her father.
The case is completely engaging. The present day case is further complicated by a murdered family in the same house 45 years ago as well as the murder of a newspaper editor. There are plenty of twists which kept my interest from start to finish, with a few jaw dropping moments thrown in!
I really loved this book. Morgan is passionate and determined. Ben is gruff yet vulnerable.  The humanity of the lead detectives is vividly described so we instantly empathise with both. I thought that the way Ben is teaching Morgan was an inspired way for the author to also convey to us the routines and procedures used by police. This gave us more of Morgan's perspective as we learn alongside her.
There is some romantic tension between Ben and Morgan but the main emphasis is on their professional relationship. There are enjoyable exchanges between the main and peripheral police characters which made them more believable.
One Left Alive was soooo good and I can't wait to see what happens in the next book!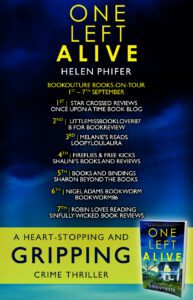 Media Pack  Information Sheet:
Title: One Left Alive
Author: HELEN PHIFER
Publication Day: 01/09/2020
Buy Links:
Description:
 She knelt down by the side of the first girl. She had to force herself to breathe as she lifted the soft white cloth covering the girl's beautiful face…
When the body of a woman is found hanging from a tree in her front garden, rookie Detective Morgan Brookes is first on the scene. But Olivia Potter is past saving. And when her husband and daughters cannot be traced, Morgan knows there is more to this tragedy. And then she finds them. Lying huddled together in the dark basement, each of their faces covered with a small cotton cloth, their bodies cold to the touch.
But as Morgan kneels beside the family, she realises that one of the girls is still breathing. As she holds Bronte's fragile hand in hers, begging her to hold on, she vows to find out who has done this.
Every day Morgan wakes at 4.25 a.m., her old insomnia now mixed with a new fixation on the case. But every clue about the murdered family leads to a dead end. Until, trawling through old files, she discovers a link to a cold case from years ago. Another family was murdered in this house, and the killer was never caught.
When Morgan returns to the scene of the crime to discover more about this forgotten case, she finds another body. With Bronte still unconscious in hospital, Morgan must act fast to solve this case and lay two families to rest, before the killer returns for the girl left alive…
A chilling and gripping crime thriller that will have fans of Angela Marsons, Rachel Abbott and Patricia Gibney glued to the page.
Author Bio:
Helen Phifer lives in a small town called Barrow-in-Furness with her husband and five children.
Helen has always loved writing and reading. Her love of horror films and novels is legendary. Helen adores reading books which make the hair on the back of her neck stand on end. Unable to find enough scary stories to read she decided to write her own.
Author Social Media Links: