A new case for pathologist Beth Adams and her lover DS Josh Walters. Their relationship has developed significantly since the last book but now a case keeps them busy and a personal dilemma drives a wedge between them.
Two women are pulled form Lake Windermere, both apparently accidental but Beth is convinced that identical paint chips beneath their fingernails is suspicious. Josh and his team begin their investigation into the deaths but he is waylaid by his ex and her cancer diagnosis.
Beth and Josh's relationship, both the personal and professional dynamic, is so well written and realistic. I really wanted to knock their heads together at some points in the book and was urging them to be open with each other and communicate properly!
There are references to events in the previous book but author Helen Phifer maintains a clear focus on the current case. The forensic detail was a little grisly but presented in an informative and objective way through Beth's occupation as a pathologist.
The pace of The Girls in the Lake is speedy, with short chapters which sweep the reader along. The energy of Josh and Beth as they investigate is conveyed to the reader and the tension for their relationship as well as the case is carefully built up by the quickfire chapters and speedy plot developments.
In all honesty I felt the ending was a little abrupt and wanted more explantion of motive and the history of the character to gain a better understanding of their motivation.
However, overall the book was excellent and I can't wait for the next installment!
Take a look at my review of the first Beth Adams book The Girl in the Grave, and Last Light from another of her series.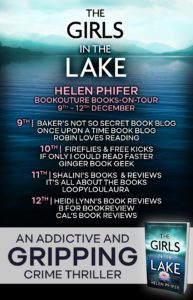 Media Pack  Information Sheet:
Title: The Girls in the Lake
Author: HELEN PHIFER
Publication Day: 09/12/19
Buy Links:
Amazon: https://geni.us/B07YNQ4N5VSocial
Apple Books: https://apple.co/2K7Z4aU
Kobo: http://bit.ly/2oMUcQl
Googleplay: http://bit.ly/2pBkLIU
Description:
Peering over the side of the boat, the glare of early morning sun catches on something pale in the inky water. The boy's curious fingertips break the surface, pulling up a tangle of long blonde hair from the reeds below…

The discovery of a young student floating face down in Lake Windermere, her naked skin almost translucent in the freezing water, looks like yet another tragic teen suicide. But the victim's lack of clothes make Forensic Pathologist Beth Adams want to investigate further. Anything to distract her from the arrival of her abusive ex-boyfriend's body on the mortuary table that morning.

With witnesses keeping tight-lipped and any clues washed away by the tides, it's up to Beth to find the evidence her team needs. But then another girl is found in the lake, this time still clinging to life. She tells them she was at a party on a boat, and that she was pushed…

As more bodies surface, Beth finds tiny traces of boat paint present on each victim. It's a critical lead that links these attacks back to a tragic accident involving a group of school children years ago.

Faced with a killer hungry for revenge, and with her own life spiralling out of control, it's going to take every ounce of skill and determination for Beth to catch this monster before he takes another innocent life. But will Beth realise he's been right beside her all along?

An absolutely unputdownable serial killer thriller that will have you sleeping with the lights on. Fans of Patricia Gibney, LJ Ross and Angela Marsons will have to hold on tight for this nail-biting rollercoaster ride!
Author Bio:
Helen Phifer lives in a small town called Barrow-in-Furness with her husband and five children.

Helen has always loved writing and reading. Her love of horror films and novels is legendary. Helen adores reading books which make the hair on the back of her neck stand on end. Unable to find enough scary stories to read she decided to write her own. 


Author Social Media Links:
Facebook:  https://www.facebook.com/Helenphifer1
Instagram:  https://www.instagram.com/helenphifer
Twitter:      https://twitter.com/helenphifer1
Website:     https://www.helenphifer.com