Sara Fletcher is camping alone when she is abducted and a frantic search for her ensues. The investigation is led by DC Morgan Brookes and her team quickly find a body. But it is a skeleton not Sara. Has the kidnapper acted before with murderous consequences, and can the police find Sara before she becomes the next victim?
Morgan and her immediate boss Ben are straight on the case as the action begins immediately. They are determined to catch the killer before he can kill Sara but they find another body instead and fear they are dealing with a serial killer.
The pace is relentless and there are some parts from the perspective of the killer which shows the danger his victims are in. Morgan and Ben continue to have a spark of attraction that means that they don't always behave in an objective way towards in each other.
There are lots of twists and I was convinced I had guessed the killer but was wrong! The ending is dramatic to the point of jaw dropping…
Find The Girl was just as gripping as the previous books in the series and again I am on tenterhooks waiting for the next instalment.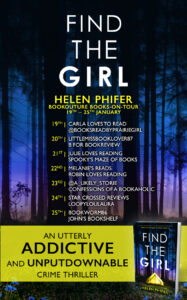 MEDIA PACK
Book: FIND THE GIRL 
Author: Helen Phifer 
Pub Day: Jan 19th 2022 
Buy Links:
Audible:
About the Book:
The tent door flutters in the warm breeze, opening towards the silent woods beyond. A silk eye mask lies on top of the empty sleeping bag, blood-red spots ruining the cream fabric…
When a woman disappears from Forest Pines campsite, Detective Morgan Brookes scrambles a search party. Sara Fletcher has never missed a lunch date with her best friend and when Morgan finds a large rip in Sara's tent, she knows that something terrible must have happened. About to lose hope after hours combing through the acres of dense forest, the excited bark of a tracker dog leads Morgan to female remains, partially covered by leaves and dirt – but the bones don't belong to Sara.
Morgan trawls through missing persons files until she finds three cold cases with chilling similarities – three other victims dating back twenty years who were taken from campsites while they slept, by a killer the police called the Travelling Man. The post-mortems indicate he kept them alive for 72 hours, meaning every second is crucial to find Sara alive.
Morgan's team is terrified that this twisted murderer has returned. But Morgan also can't ignore the fact that a merciless killer from her own past has recently escaped from prison… Could they be chasing the wrong man? If she's correct, how deep will she have to dig to save Sara and other innocent women like her before time runs out for them all?
A completely unputdownable, heart-in-your-mouth crime thriller. Fans of Angela Marsons, Lisa Regan and Rachel Abbott will be glued to the page!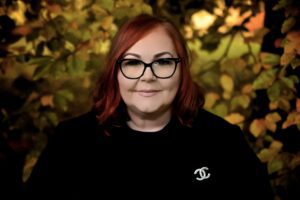 Author Bio
Helen Phifer's love of reading began with Enid Blyton, before progressing on to Laura Ingals Wilder and scaring herself with Steven King. If she can't write for any particular reason she finds herself getting itchy fingers and really irritable. She loves reading as much as writing and is also very fond of chocolate, Prosecco, The Lake District, New York, white Zinfandel wine, her children and grandchildren, her friends, porn star martini cocktails, Stephen King, watching scary films, Marilyn Monroe, Melissa McCarthy, Idris Elba, Simon Baker, Spandau Ballet, The Munsters and coffee. In no particular order.
Social Media