Verity Spencer spots a dropped notebook on the pavement and tries to reunite it with the owener. She travels to his home to find him lying on the floor with a gunshot wound to the stomach. He begs her to hide the notebook and asks her to seek out help, insisting 'trust no one'. Verity embarks on a terrifying journey to the truth…
No Deadly Medicine was astoundingly good. The plot was well paced and full of action. I did need to suspend my disbelief but I was completely swept up in the story and adventure. The police are corrupt and Verity is in danger from the second she picks up the notebook.
Verity is a fab protagonist: an ordinary women thrown into extraordinary circumstances. She is amazingly resourceful and intuitive as well as brave and determined. The plot is delivered through her first person narrative which means we get to see her thought processes and emotions. She has recently been widowed so has nothing left to lose, explaining why she throws herself wholeheartedly at this mystery.
I was surprised to discover No Deadly Medicine is a debut novel as author Trudey Martin writes with a confidence I would usually associate with established authors. The style of writing is engaging and her choice of a 'normal' woman as the main character gives us the opportunity to consider how we would act in the same circumstances.
The ending tied up loose strands as well as setting up the potential for sequels (book 3 in the series is due to be published on 31st January 2021… I can't wait!)
No Deadly Medicine is a fab read, thoroughly entertaining and a good bit of escapism during lockdown.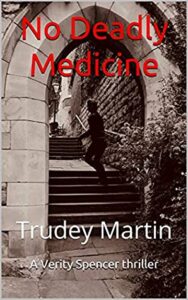 No Deadly Medicine book blurb:
One life is about to end…
One life is about to change forever…
What would you do if your life was suddenly broken apart?
An elderly gentleman drops his notebook.
Verity Spencer picks it up.
When she attempts to return it, she finds the old man shot and dying, his house ransacked. He begs her not to hand the notebook to the police and reluctantly, she agrees.
And there's no one you can trust…
Unwittingly Verity gets drawn into a deadly game of cat and mouse with people who are not afraid to kill to protect their secrets. In order to stay one step ahead of them she needs to uncover what the scribblings in the notebook mean.
Verity is in above her head. She needs to find new levels of resolve and determination if she has any chance of finding out what is going on. And keeping herself alive.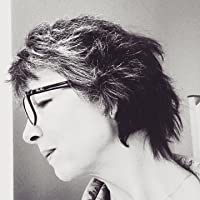 About the author
Trudey Martin lives, works and writes in Lincoln, England. She has worked in social care for many years and likes to incorporate this experience into her writing. Trudey has previously written and directed plays and several academic articles but hadn't until recently published a novel. Her first, No Deadly Medicine, introduces Verity Spencer as the protagonist. It is set in Lincoln and London and delves into the world of child trafficking.
Trudey has always enjoyed reading suspense, crime and mystery thrillers and wanted to create a resourceful heroine, who she says contains elements of herself, but is "much more confident and resilient than I would ever be!"
In her spare time Trudey likes to learn Spanish and travel to Spain. Perhaps, in a future book, Verity might head off to Spain.