Ruby Fletcher was convicted of a double murder and is released on a technicality. She returns to her local community but is unwelcome by the neighbours who testified against her. Can she prove her innocence and is there a killer still on the loose…?
Such A Quiet Place is a mix of domestic and crime suspense thriller. The police play a marginal role whilst the community adjusts to the damage in its midst as Ruby returns from her overturned conviction. They need to assess the murders as well as their own situation, revealing secrets and lies that have been haunting them.
The whole book is written from Harper's first person perspective. This allows us to chart her own actions as well as explore her anxiety over Ruby's return and the distrust amongst the neighbours. She is targeted by an anonymous person threatening to reveal her secret which is an intriguing twist.
Ruby is a complex character. We only see her through Harper's viewpoint. Is she guilty or innocent? Is she rightfully aggrieved or vindictively targeting her former friends? There were plenty of twists and turns as events in the present day unfold and the past becomes clearer.
There is a darkness to the book as danger looms and secrets are revealed. It is difficut to like many of the characters as they have a sinister edge. I liked the way the strands come together to explain both the past and present.
Such A Quiet Place is an enjoyable thriller that kept me entertained.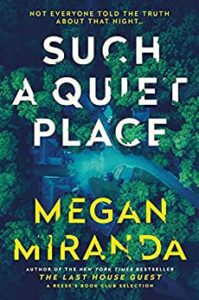 Such A Quiet Place book blurb
We had no warning that she'd come back.
Hollow's Edge used to be a quiet place. A private and idyllic neighborhood where neighbors dropped in on neighbors, celebrated graduation and holiday parties together, and looked out for one another. But then came the murder of Brandon and Fiona Truett. A year and a half later, Hollow's Edge is simmering. The residents are trapped, unable to sell their homes, confronted daily by the empty Truett house, and suffocated by their trial testimonies that implicated one of their own. Ruby Fletcher. And now, Ruby's back.
With her conviction overturned, Ruby waltzes right back to Hollow's Edge, and into the home she once shared with Harper Nash. Harper, five years older, has always treated Ruby like a wayward younger sister. But now she's terrified. What possible good could come of Ruby returning to the scene of the crime? And how can she possibly turn her away, when she knows Ruby has nowhere to go?
Within days, suspicion spreads like a virus across Hollow's Edge. It's increasingly clear that not everyone told the truth about the night of the Truett's murders. And when Harper begins receiving threatening notes, she realizes she has to uncover the truth before someone else becomes the killer's next victim.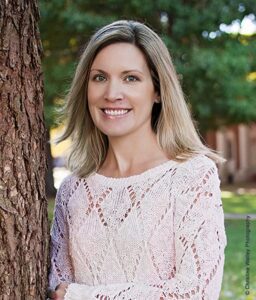 About the author
Megan Miranda is the New York Times bestselling author of ALL THE MISSING GIRLS, THE PERFECT STRANGER, THE LAST HOUSE GUEST, which was a Reese Witherspoon Book Club selection, and THE GIRL FROM WIDOW HILLS. She has also written several books for young adults, including COME FIND ME, FRAGMENTS OF THE LOST, and THE SAFEST LIES. She grew up in New Jersey, graduated from MIT, and lives in North Carolina with her husband and two children.
Follow @MeganLMiranda on Instagram, or @AuthorMeganMiranda on Facebook.
www.meganmiranda.com