Now in her sheriff role for 4 months, Piper is called out in The Dead of NIght to meet Mark 'the Shark' Thresher, a nonagenarian who is convinced his money is being stolen online. Piper agrees to investigate but on the way back to her car, she trips in the dark over some bones. A nine year old skeleton, buried for over half a century.
Meanwhile, Piper's department is being shaken up with the departure of one of the team and a set of interviews is required. But her father, the former sheriff, is now cancer free and wants to return to police work. Plus Piper's relationship with Nang is developing so both her personal and professional life are rapidly changing.
The plot differs greatly against the gore of the first book The Dead of Winter. The use of online hacking is ve
ry up to date and contrasts wonderfully with the cold case and traditional investigating required to find the identity of the boy and his murderer. The two main cases are bolstered by DUIs and a mailbox destroyer which adds plenty of drama and action to the novel.
The gentler plotline allows greater development of the characters and their relationships. Oren, her chief deputy is more respectful of his young boss now, and Piper is working hard to include him and welcome his opinions. Mark the Shark is a great character but I won't include any spoilers about his character arc. There is an undercurrent of emotion in this book that was unexpected but very enjoyable, which I think is a credit to the author's skill at making us care about the characters and their lives.
I liked this book just as much as the first as the characters are so engaging and human. The Dead of NIght secures Piper as a credible and likable leader and detective, strong yet vulnerable. I am looking forward to the next book in the series!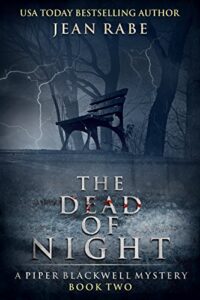 The Dead of Night book blurb
As Sheriff Piper Blackwell rushes to a clandestine meeting with an aging, paranoid veteran who believes spies are trailing his every move, she is caught in a fierce thunderstorm. Pounding rain drums against the bluff, washing away the earth and revealing a grisly secret someone tried to bury a long time ago.

Putting a name to the skeleton on the bluff, and searching for the thief who robbed the old veteran of his life's earnings, sends Piper delving into the sleepy towns that dot her rural county. Now she's digging into pasts perhaps best left alone.

Accompanied by Chief Deputy Oren Rosenberg, Piper seeks to expose a truth someone wants to remain forever hidden. The investigation may have started with a thunderstorm, but Piper aims to finish it and find justice. Uncovering fragments of Spencer County's history could prove more dangerous—and deadlier—than she ever expected.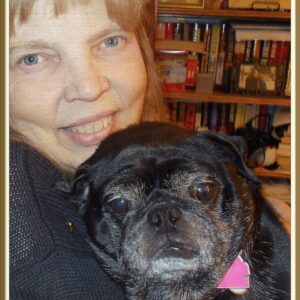 About the author
USA TODAY Bestselling author Jean Rabe tosses tennis balls to her cadre of dogs when she isn't writing. She has three dozen novels and about a hundred short stories to her credit. Jean lives in a tiny town surrounded by railroad tracks, the trains providing music to type by. She loves role playing games, board games, card games, visiting museums, playing fantasy football, watching football games, and loves dogs.