11 am
Hi everyone, thanks for visiting my first (and possibly only) attempt at a live blog post! I will be updating regularly throughout the show: only 9 hours to go! In the meantime, if you want to read my thoughts about the beginning of the series and the dramatic move to Channel 4 then read it

here

.
12.30
Just realised that I actually have no idea what the finalists' names are… will have to go and look. OMG the Radio Times has done something weird to their faces (too much make up) and the photos are not that flattering. Oh well, at least I know that they are Kate, Steven and Sophie now.
8.00
It started early! Naughty Channel 4…
Welcome everyone to my attempt at a live post. Feel free to leave a comment who you want to win or who deserves to win (could be different answer!)
Yay, alternative grain breads (hoping for wheat free)
8.10
Chris thinks everyone in Kate's family looks the same 🙂 I'd forgotten about all the family interviews in the final.
Poo, they are all doing spelt bread which is a form of wheat.
I'm on the wine and veggie Percy Pigs. What snacks are you having?
8.15
I still hate the adverts. I am the impatient sort so want the show!
8.20
Sophie isn't fab at bread by her own admission. Oh dear, Steven not doing so well. Paul said he quite liked Kate's spelt bread but he said it REALLY begrudgingly! And then said she'd done very well like he was annoyed.
8.25
Ahhh technical challenge is my favourite. But decorating biscuits is not me at all (lack of artistic ability plus a load of faff for something that will be digested asap…) Who has ever measured tablespoons of beaten egg before?
8.30
Oh dear: Kate and the icing. I feel your pain. I am you.
I can't believe how closely they are checking the consistency of the blobbing! Well done Steven!
8.35
We have accidentally eaten the Percy Pigs and moved to the Lidl Halloween snacks… The wine is strong with this one 🙂 Hurrah for adverts to grab treats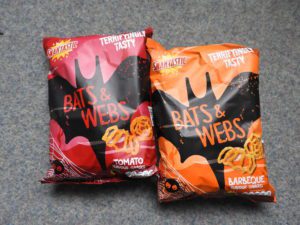 8.40
Entremet. Ummm no I won't be maknig it. As soon as they said 5 elements I knew I was out of the running. Kate 'hope for the best'! My kind of baker! Oh except she is using Yuzu… and offering naked cartwheels (WTF!)
8.50
OK so Steven appears to be losing the plot but the girls are calm. Sophie's glaze looked amazing but she mixed it… ohh marble effect!
Sandi announced 1 minute! 25 minutes of non baking still to go??? oh adverts…
9.00
Oh I had forgotten many of the contestants who left!
Making the finalists describe their bakes is cringeworthy in ponciness, surely?!
9.05
Oh dear, I want to cry for Steven right now 🙁 He got star baker sooooo many times but they have just ripped him to pieces
9.08
OK so here we go, the final bit! I think the show stopper was a bit disappointing as it was one small but intricate) cakey thing, In previous years the finalists have had to feed the guests and make billions of things…
OK so final thoughts are that I would like Steven to win as he has been best overall due to star baker achevements. Here we go…
9.10
Well done Sophie! I think you have been the most consistent across all the weeks, great achievement! Love Sandi's wobbly voice doing the announcement, guess Noel will do it next year…
9.15
Love the final recap on what everyone has been up to since the end of filming. Glad they all seem to be genuine friends. Wonder who will get a book deal…
Thank you to everyone/anyone who joined me. See you next year!