We have reached August already (!) and embarked on our summer holiday to the Isle of Wight, yay!
Here we go, getting on the ferry!

And then relaxing on board.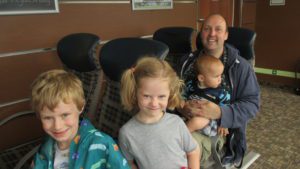 There was a moment of hilarity when Matthew shrieked 'I'm not supervised!' in a panicked voice because he was sat on his own in the seat in front and heard the captain's warning on the tannoy. He was terrified he'd be booted off the ship for not having an adult beside him for every single second…
Bon voyage!