It's beginning to look a lot like Christmas! The shops are full of EVERYTHING we could ever need to survive the one day that the shops are shut and we are trapped with family.
Bah humbug…
Only kidding!
I actually love the build up to Christmas as I like to buy food, drink and presents over time to spread the cost and also so that I hide things and forget them so it's like a surprise for me too 🙂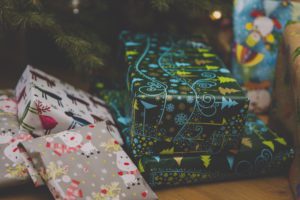 Please note: my presents never end up neatly wrapped, I am hopeless at wrapping! I usually enlist the kids to help so that I can use them as an excuse for just how bad it is!
Christmas in our family can't really get started until Chris and my dad have their (shared) birthday in the middle of December. We usually decorate the house on the weekend closest to their birthday.

Our tree is not tasteful but it is bright and represents everything I love about Christmas: busy, children oriented, unique.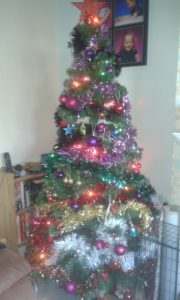 Last year in particular was a very special Christmas as it was Zach's first one. To be perfectly honest, I don't really think he had any idea what to make of the whole event!

We started some new

traditions

last year as well that we hope will make Christmas happy and create memories that will last a lifetime.

H

a

p

p

y

C

h

r

i

s

t

m

a

s

e

v

e

r

y

o

n

e

!