We had a fabulous holiday on the Devon/Cornwall border. Although we've only home for a few days the holiday already seems so long ago 🙁
It was a very busy 8 days as we crammed in as many places as possible whilst also taking the time to enjoy being together as a family. We broke up the journey to our holiday cottage in Lydford on the first day with stops at Salisbury and Lyme Regis.
Our destination in Salisbury was the cathedral. My highlight was the monument commemorating Lady Catherine Grey and her husband Edward Seymour. I love the history of this pair who both had huge political and social importance during the 1500s. She was the sister of Queen Jane Grey, the nine days' queen, a great-granddaughter of Henry VII, and he was the nephew of Henry VIII's third wife and son of Edward VI's Lord Protector. Their love match resulted in imprisonment in the infamous Tower of London but they managed to have two children during their capitivity.
Lyme Regis is a gorgeous place with a strong dinosaur and fossil presence. It was the birthplace and home of Mary Anning who found fossils including the first icthyosaur when she was only 12 (in 1811). Mary also found two plesiosaur fossils and a pterosaur. She set up a fossil shop and now there are many in the town! Mary is commemorated with a statue along the shore line. Whilst on the beach, Zach picked up every stone (or so it felt!) and said 'Is this a fossil?'

The Dinosaurland Fossil Museum was a huge hit with Matthew, our resident dino nerd. It was absolutely jam packed full of exhibits and the owner was there and exceptionally welcoming. The museum prides itself on displaying every artefact rather than keepiong any in storage. In a fascinating link with Mary Anning the museum is housed in the former church in which Mary was baptised in 1799.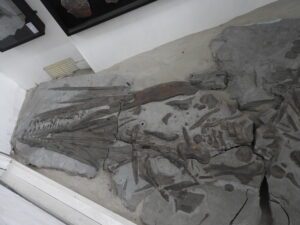 I dread to think how many photos Matt took! We could easily have spent hours here poring over every exhibit, including those that are millions of years old and contrasting with those remains of current species.
We then headed to our holiday cottage in Lydford…