To kick off half term, we headed to Sutton in Surrey to explore the revamped St Nicholas Centre.
The centre was hosting a group of bloggers but I took my husband, children and mother in law along to check out the facilities for all ages.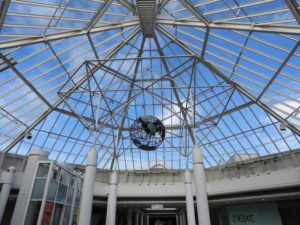 We arrived around 10am and found a parent and child space to park in which was perfect for us to unload (I was in the boot seat!)
First stop (as usual) were the toilets which were clean and hygienic. The taps are automatic and the sinks stylish. The cubicles were a good size for squeezing in with the kids. Later on Chris had to use the baby changing facilities for Zach and there is also a separate baby feeding room.
I headed off to the management suite to find out more about the day and meet up with other bloggers, many of whom I had met at previous bloggers' events.
We went to Debenhams to have a make up masterclass from Urban Decay. I definitely need to put more effort into my appearance! A cheeky Prosecco: yes please!
Meanwhile, Chris took the others around the shops and to visit the Games Garden which is a free space for children and teens to enjoy and my crew certainly did that!

I moved on to Sweat Gym which was really inspirational and if I lived closer I would have signed up there and then! The latest technology combined with an enthusiastic team to create a great vibe. They offer an unbelievable 150 classes a week and members get 2 hours of free parking when they visit.
Lunch! We were provided with a range of dishes to sample from around the world (Bangkok Pad Thai, Roti Masters and Sugar and Spice)
I ate a delicious but very spicy chickpea curry with rice and gluten free naan bread, all freshly made by Naz and her team at Sugar and Spice.
There are exciting changes and events coming to St Nicholas soon: a soft play area will open by the end of the year and Christmas plans are ready to roll for a grotto and lights.
*I was invited to attend the centre and received free food and parking with no expectation that I would write a post (I just wanted to share!)