OK hands up who ALWAYS cooks too much rice. Me too! 🙂
Ingredients
200g cooked rice
75g veg (I used some onion, peas and carrots)
100g grated cheese (I used a mix of cheddar and red leicester but you could try mozzarella and parmesan too))
2 eggs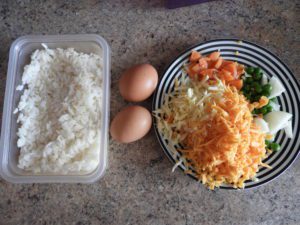 Method
Preheat the oven to 180 Celsius and grease your muffin tin very well or use cupcake cases.
Chop the vegetables.
Combine the rice and veg and mix well.
Stir in the grated cheese.

Beat the two eggs into the mixture.
Season with salt and pepper to taste. Add herbs if you fancy. (ooh I wish I'd added a few chilli flakes now!)

Place spoonfuls of mixture into the muffin tray. Press the mixture down firmly to make sure they are well filled.
Bake in the oven for 30 minutes or until the tops begin to brown.
These can be eaten warm from the oven or are perfect for a picnic when cold.
Keep in an airtight container in the fridge and eat within 24 hours.