For those of you who didn't see my post

last week
,

I have decided to try to break the fussy eater tendency that has erupted in my 3 children. I am aiming to make a different meal each day this month to give them a variety of flavours and textures to re-tune their fickle taste buds.
So we are a week in. I'll be perfectly honest with you: it isn't going well. I am managing to give them different meals but the children are rejecting most of them 🙁
Day 1: sausage roll with potato wedges and garlic bread, cherry crumble
Day 2: takeaway! Chicken and vegetable biryanis, chicken pakora, naan and poppadoms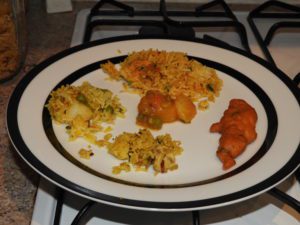 Day 3: pasta bolognese

Day 4: minestrone soup, lasagne and bread, mincemeat sponge (I was super proud of myself for making a three course lunch! The kids only ate the bread and the pud…)
Day 5: sausages with mash and beans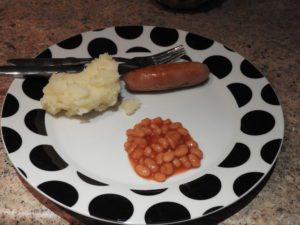 Day 6: roast chicken dinner, jam sponge (oops forgot to get a photo but the dish was scraped clean so obviously a big hit!)
Day 7: pasta carbonara with salad, fresh pineapple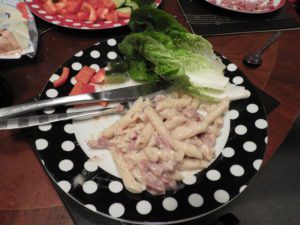 The puddings have all been winners. Old favourites such as sausages and bolgnese have remained popular but I was pretty gutted to have the lasagne rejected as it was the same bolognese sauce! I was thrilled that the takeaway curry had a positive reception so I hope to try some homemade curries later in the month.
Don't forget I need your help! Let me know if you have any fab recipes that will be a success with my awkward family!