I am always on the look out for new

wheat free

vegetarian snacks so was excited to spot these in Tesco last week.
Genius is a great brand and I love their products so couldn't wait to try these biscuits.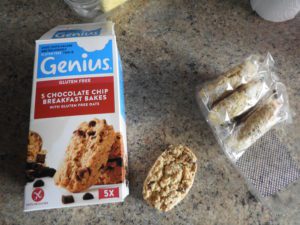 My first impression was disappointment though as there was a lot of packaging and the bakes themselves were actually quite small 🙁
The taste of the bars however can't be faulted. The oats give a great texture to the bakes and the chocolate chips make them just sweet enough.
The bars are quite small but due to the oat content are also quite filling so you only need one to keep you going.
Personally I feel that £2 is too expensive for a box of 5 small bakes and I wish the plastic packaging was reconsidered.
I will be buying them when they are on offer as they are a convenient snack to have on the go and the oats are a means of slow release energy.
Have you tried these breakfast bakes? Let me know what you thought of them!