After our long drive to Wales, we didn't want to travel too far on our second day of holiday. We drove 10 minutes to Denbigh and began by exploring the castle.

Our English Heritage membership gives free entry to Cadw sites and we certainly made use of our cards on this holiday!

Next we wandered around the town, shaking hands with Stanley (Dr Livingstone I presume?). We planned to find the priory but the rain forced use to turn back.

I was disappointed that the town walls were padlocked and we couldn't get inside Leicester's Folly either.


We drove a short distance to the 1950s Museum. Some of the items were a little risque but the owners did warn us beforehand as we had children with us. I liked that the museum reflects openly on the sexism, racism and homophobism of the era rather than avoiding including artefacts that are unacceptable by today's standards.

The kids were desperate to go to the beach so we headed for Prestatyn. Unfortunately the rain was a downpour by this time and the amusements were closed.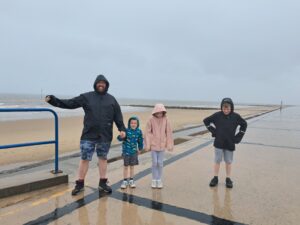 On the way to our next destination, I leapt out of the car to whizz around the Roman baths. These are situated randomly in a residential area.


Whilst we were already wet, we visited the Rhaeder Dyserth Waterfall and went on a woodland walk that took us nowhere but a housing estate so turned back.
Our final stop of the day was Rhuddlan Castle, another Cadw site.