We struck out further afield on our next day of the holiday. Our first stop was Caernarfon Castle. It is a Cadw site so we had free entry with our English Heritage membership.
There were plenty of spiral staircases, towering turrets and dark passageways to explore and admire. I liked the 'wizard chess' reminiscent of Harry Potter to explain the complicated political play of the Middle Ages.
I also enjoyed the display about Eleanor, wife to Edward I and the mother of the first Prince of Wales. The castle also houses the Royal Welsh Fusiliers Museum which is included in the ticket.
We ate at McDonalds and discussed our plans for the afternoon. I was fascinated at the amount of Welsh that was spoken and the people next to us offered us some advice on the best beaches in Anglesey.
Before leaving Caernarfon the others had an ice cream and we visited the Roman fort
We then drove on to Anglesey and our first stop was the infamous town with the longest place name: Llanfairpwllgwyngyllgogerychwyrndrobwllllantysiliogogogoch.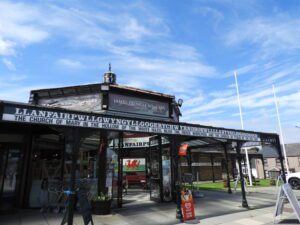 There isn't much to see or do there so I took a couple of pictures and we headed towards the beach. I was unwilling to miss any tourist spots so we called in at the model village.
We enjoyed completing the quiz as we went round, severely testing our powers of attention to detail! We finished our visit with a maze while I handed in our clipboard to the rudest man in Wales!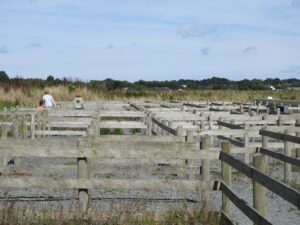 Our final stop was Llanddwyn Beach where the kids could explore, play and get soaking wet. I am always reassured about how lovely they are when I see them working together and am relieved that they love the outdoors as much as their screens.