Another day, another castle! This time: Conwy Castle.
We tested the strength in our legs once more to deal with all the spiral staircases and enjoyed the beautiful sights from the battlements.
We then found the smallest house in Britain. Incredible to believe that anyone ever lived here!
Our next visit was to Plas Mawr, an Elizabethan townhouse. I loved being immersed in the history of the place.
Lunch was at a pub, The Erskine Arms, which was a Georgian coaching inn. I had a Thai curry which I felt was more of a gravy and had little Thai flavouring but was tasty nonetheless.

The kids wanted a beach so we popped to the closest one but it was a bit too cold and stony in Conwy so we moved on.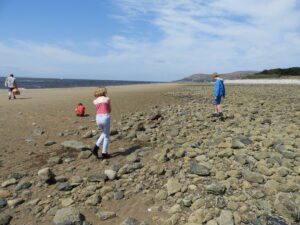 Next we drove back on to Anglesey to visit Pili Palas. There was a wide range of animals to see as well as soft play and outside play areas.
As it was our last visit to Anglesey and the sun was shining, we decided to make the most of the day and drive to Beaumaris. We had seen the castle in miniature form at the model village the day before.

We had a rest on the beach before taking a scenic mountain route home.