Our final full day in Wales began with an exploration of Ruthin.
The gaol is a remarkable landmark and I told the kids it had better be the only time I see them in prison!
The children enjoyed the information and picture trail around the site to find out more about the inhabitants of the gaol based on the census records (it was a little tricky though!)
Nantclywd y Dre is a Tudor house featuring rooms from every era since. The children were given borrow bags to help them explore the site and we watched bat-cams for update on our flying friends.
I was able to walk around the site without fear of banging my head. Chris however…
Chris and I enjoyed exploring the gardens while the children embraced the family tradition of colonising a bench with glee.
We had lunch at The Castle Hotel Wetherspoons. The building is quite majestic. Matthew was thrilled to try his first steak. My chilii was nice but I'm pretty sure the rice was squeezed out of a microwave packet…
We then moved on to Corwen. We explored the town, admiring the statue of Owain Glyndwr and visiting the museum which included a model railway.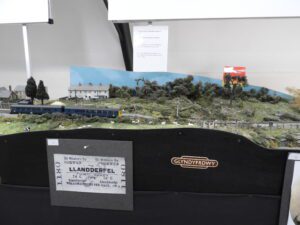 Matthew was thrilled to spot a steamie. It was a battle to leave!